Your Long, Stressful Job Search May Be Over. Come Work with Mark.
by Matthew C. Bloom
Wondering where your landscaping job search will end? There's a place I want to tell you about.
It's out on that beautiful stretch of Jackson Street west of Muncie – where the residential neighborhoods give way to freshly mowed acreages, fields and the occasional woods – a house set back from the road, just beyond a copse of trees.
You wouldn't think much of it … if it weren't for all the big trucks with the Clean Cut logo on the side.
Owners Troy and Mary Harshman converted the house into an office space years ago, but it's still a comfortable place to strategize, hold a staff meeting or just sit and have a nice chat.
This is where Mark Burchett and I met in early March to answer your burning question, as you search through job openings and fill out endless applications. Why work at Clean Cut? Heck, why work in landscaping at all? What's the appeal?
"It's all about taking pride in your work," Mark said.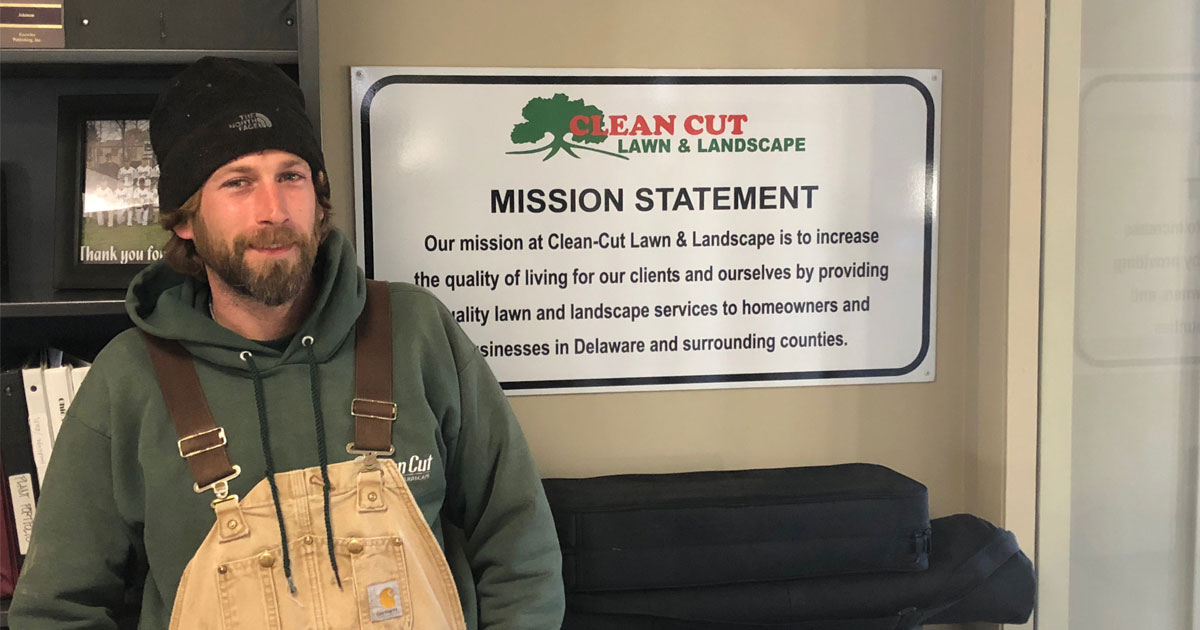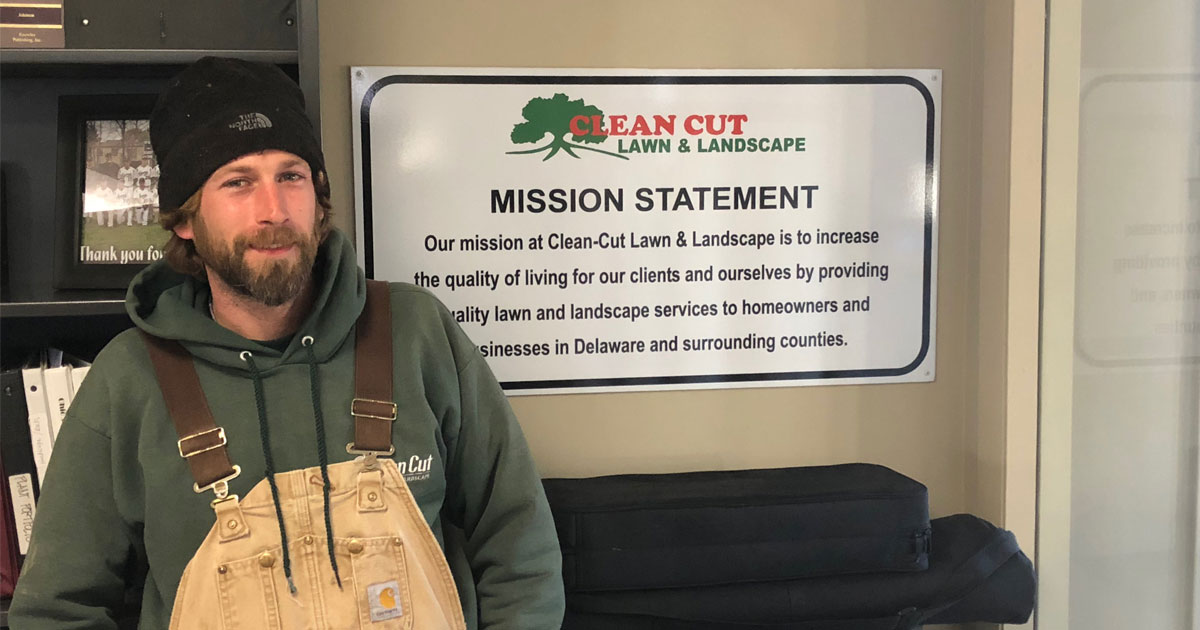 He used the property where he'd been working that day as an example. He had been leading a crew at a house in Gaston constructed just last year. It was a typical spring cleanup job – pruning, overseeding the yard – but this property was special.
"We installed the entire yard last year, everything. We put in 150 yards of topsoil. That's like eight to 10 triaxle loads. As the house was built, we put 15 pallets of sod in the backyard," Mark said.
The backyard had a problem with holding water, so they dug a French drain and had it run out into a field. It is made of a perforated tile with a sock over it that filters out dirt while letting water through.
"We did a good job last year. That made our job easier today. If we would have done a crappy job last year, it would have been a pain in the butt," Mark said, his brunette beard parting in a proud grin.
Mark started at Clean Cut about four years ago. He was working for another landscaping company at the time and felt like a change (like most of us do at one time or another). He was looking for jobs online when Clean Cut "popped up."
"There was a picture of Troy you could click to play a video. He just seemed real professional, like an easy-going guy. So I called and said I'm coming up there to talk to Troy," Mark said.
He had to fill out an application first, of course. Soon after, Mark came in to interview and got the job as a landscape specialist.
One thing that struck him about the work environment when he was new was the experience among the crew. He wasn't used to working with people who had been with the same business for 10, 15 years or more.
Not to mention, he had never worked for a landscape company that had been around for as long as Clean Cut's 35 years.
"Other guys, they're in the business for 10-15 years and they're bankrupt. I figured Troy and Mary must be doing something right," Mark said, then chuckled. "It's probably Mary … just kidding."
Mark also liked being in a culture of appreciation.
"I was kinda nervous, like you always are in a new job," Mark said. "Within a few months Troy was telling me I was doing a great job. Compliments go a long way. A good attitude is contagious. That's part of the professionalism here."
Appreciation is especially important in a job that can be physically challenging. There are hot days. There's poison ivy. Taking breaks, drinking water and putting on preventative ointment help with those challenges, but it is knowing he works for a company that appreciates his hard work that really gets Mark through the hard days.
Beyond that, there's a reward that has nothing to do with what anybody else says: pride.
Ultimately, it's his pride in his work that has kept Mark here these last four years. It's the reason he hopes to grow within the company by getting an arborist license, or one day becoming a landscape architect.
Mark's next accomplishment may have little to do with landscaping, though. He and his fiancé, Rachel, are planning a wedding for this fall. They're working out details but may have found a location.
"Troy's got this beautiful property out in Winchester. We had this big company cookout there once. Troy bought 200 pounds of catfish, like 1,000 chicken wings. Some people were fishing, some people falling in the water. It was a blast," Mark said.
"A hillbilly wedding out there might be fun. Troy brought it up at the cookout. My fiancé was there, we were talking about it, and he said, 'Let's do it right now!' Well, maybe this fall."
The picture I got from talking with Mark was of a company that's more than just a group of coworkers. It's a family. One where everyone is appreciated. One where hard work is rewarded, and where there are opportunities to grow and advance.
I can't think of any better list of qualifications for a landscape company. Can you?
Come work with Mark. Fill out the job application today to get started.